As a Senior Advisor in Project Management, Denver provides advisory services in the areas of design, construction management, development management, move management, and building condition assessments.
He is responsible for keeping projects on budget, on schedule, developing strategies to add value to project, and managing the process of vendor selection for commercial construction projects.
Denver has a Bachelor's Degree in Construction Management from University of Southern Illinois – Edwardsville.
---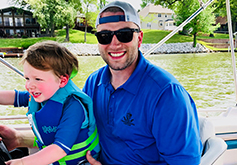 Denver is actively involved in the Edwardsville, Illinois Knights of Columbus and Edwardsville Alzheimer's Association. In his free time, he participates in GoRuck Events (strength and endurance events), plays golf, and is a fan of the Kentucky Wildcats' basketball and football teams.