As an Advisor, Project Management, Katie works with clients and other project managers to ensure project scope is achieved, work on jurisdictional reviews and project-related mitigation issues, and add value to projects through strategic planning.
Katie has a Bachelors Degree from University of Colorado at Boulder, and spent a decade in California before moving back to her hometown of Saint Louis, Missouri.
---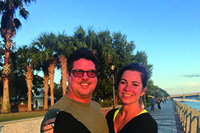 In her free time, Katie likes to stay active outdoors, lose herself in creative projects and spend time in the kitchen cooking!