As Pace's in-house legal counsel, Rick oversees all the company's legal affairs, including negotiating and documenting contracts and real estate leases, acquisitions, dispositions and new development projects.
Rick has played an integral role in many of Pace's largest milestones, including the conversion of Pace into a 100% employee-owned company, two major development projects, and the 2017 acquisition of the Maune Company. He serves on Pace's Employee Relations & Community Outreach Committee, the Board of Directors, and the ESOP Administrative Committee.
Rick received a Bachelor of Arts from The University of Missouri – St. Louis and his Juris Doctorate from the University of Virginia's School of Law. He is a member of both the Missouri and Illinois Bar Associations.
---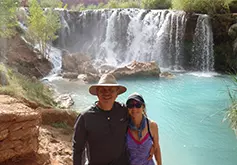 When he's not sorting through legal documents, Rick enjoys gardening and spending time on hiking and biking trails. He plays the guitar and piano and enjoys anything related to the Marvel Comics universe.