As a Director, Greg has a versatile background in construction and project management. His experience has given him knowledge in all areas, from internal concerns like quality assurance, conflict control, and safety, to external concerns like land purchasing feasibility and environmental impact.
As a Construction Management Association of America member, Greg is passionate about continuously honing his craft to provide the highest quality service to Avison Young's clients. He is a technical expert and excels at maintaining a transparent line of communication. Whether working on a $50,000 or $500,000 project, Greg provides a professional, proven approach to management and consultation.
---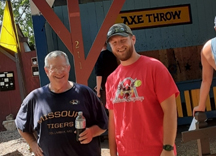 Greg grew up in the countryside of Minnesota. He is an outdoor enthusiast and enjoys the outdoors, especially nature-type activities (primitive camping/hiking). He enjoys spending time with his family, including his wife, four children (three girls and one boy all out of school), and two grandchildren. This includes everything from golfing to axe throwing at a Renaissance Festival.