As a member of the Pace Properties accounting team, Kim is responsible for reviewing and preparing monthly financial packages, tenant accounts, and tenant billings for each client within her portfolio.
Kim is critical in the management of the Pace Properties portfolio with tasks including payroll, financial analysis, human resource duties, and corporate accounts receivable. With a strong background in commercial real estate, Kim brings expertise in financial analysis, analytical skills in reporting, and provides information to tax accountants and financial institutions for year-end auditing & processing.
Kim has been a member of the Pace team since 2011. She is a graduate of the Southeast Missouri State University.
---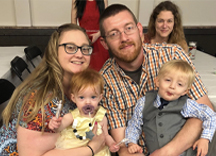 In her free time, Kim enjoys spending time with her husband Rodney and their two beautiful children Jonathan and Sara. When not chasing babies, they love cheering on the St. Louis Cardinals.