As Senior Vice President in the Brokerage and Development Department, Rick specializes in land sales, tenant representation, and shopping center development. He has an extensive background in third-party land sales.
Rick has represented many of the major tenants to enter the St Louis market over the past three decades and has worked in a lead position on some of the largest retail shopping center developments in the region.
Rick has been a member of the Pace team for 27 years. He holds a Bachelor of Science degree from the University of Missouri – Columbia. He is a licensed real estate broker in Missouri. Rick is very passionate about Veterans' causes and serves on the board of directors for Greater St. Louis Honor Flight and as a chairman for America's Heartland Remembers.
---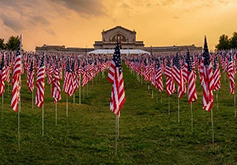 Outside the real estate world, Rick enjoys playing tennis and spending time with his grandkids. He is also an amateur photographer.