Richard M Randall Award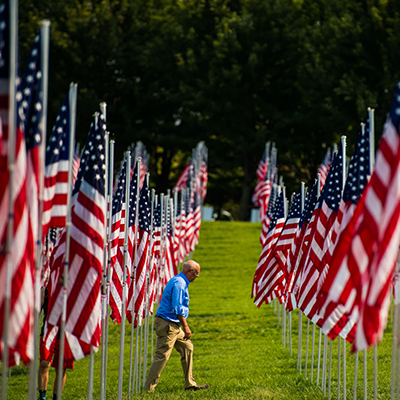 We at Pace Properties are enormously lucky to experience the magic of Rick Randall and his giving spirit. He's the kind of person who gives his all to all. As the founder of America's Heartland Remembers and Flags of Valor in 2011, Rick's commitment to honor the fallen heroes of the War on Terror began. His rally cry brought hundreds of volunteers to remember the thousands every five years, with even more giving of time and treasure between memorials at Art Hill. He sits on the board of Honor Flight St. Louis, extending his commitment to the living heroes of past conflicts and wars. While he never served in the armed forces himself, we at Pace Properties and beyond are grateful for his service to our company, community, and nation.
As the sun sets on Rick's remarkable commercial real estate career and he retires from the daily grind, it is our honor to create the Richard M. Randall Award. Rick's devotion isn't limited to the causes he's passionate about; he stands at the ready to lend a hand to his colleagues and the causes they care about too. It's impossible to count the number of lives he impacted outside the confines of our office.
For these reasons and many more - we celebrate Rick and look toward the future, knowing subsequent recipients of the Richard M. Randall Award will be the Pace employee-owner who best represents and exemplifies the values of Pace Properties. This person will have the spirit of giving evidenced by corporate selflessness, loyalty, dedication, and community involvement. We look forward to announcing future award winners and sharing the impact they've made within Pace and beyond. Congratulations Rick; we're better for the privilege of working with you.